Here are some pictures of residential foundations in Oklahoma. Does anyone see this type footing and foundations?
They pour the footing first; and come back and pour the foundation walls;
(right click on picture to enlarge)
and,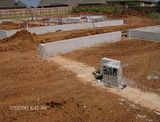 Notice that there are no anchor bolts; and, yes this is high winds and tornado alley.
Then they add fill and pour the slab on ground inside.
Uncle Bob