Joined

Mar 29, 2018
Messages

34
Location
We're helping a municipality with updating their emergency generators for multiple well sites. The municipality would like to construct a fully enclosed building, in which a permanent generator will be installed.
Here are a few facts/points of possible interest:
- Project is located in California.
- The building will be about 700 SF total.
- The building will be located essentially out in the middle of a field near some well equipment. 25ft from the nearest building, which houses chlorination equipment but is not occupied. So it appears we would be in compliance with the separation requirements of Table 22.4.1.1(b) from NFPA 30.
- The generator will sit on a large diesel sub-base tank. I believe the tank will be around 1,000 gal.
- A mechanical engineer has designed the required venting for the generator.
- There will also be an electrical room with the main switchboard (800A), auto transfer switch, and various other telemetry equipment.
Here are my questions:
- What occupancy classification should I use? I would typically say it should be U occupancy, as it is a generally unoccupied building. But the diesel tank has me thinking I may need to call it an H-2 or H-3, based on the fact that there will be a diesel fuel storage sub-tank. (CBC Table 307.1(1)
- Would the electrical room need to have a fire separation from the generator room, or would it be considered an accessory use (same occupancy classification), and therefore no separation required? However, per Table 504.8, adjacent H-2 occupancies are supposed to be separated from each other if sprinklered, or are not even permitted if non-sprinklered. The electrical room itself wouldn't be classified as an H occupancy as far as I can tell.
- Will the building need to be sprinklered? Per CFC 603.3.2.1, it appears so, but I don't know if diesel is considered fuel
oil: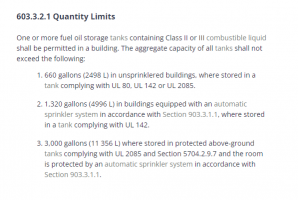 -
There are lots of requirements for spill control and/or containment, I'm just unclear what triggers those.
Thanks for any help anyone may be able to offer!
Last edited: