Joined

Nov 9, 2021
Messages

5
Location
2018 IBC
I have an elevator serving 3
mezzanine
levels within
1 story/room
. By definition, the
mezzanine
levels are open to the story/room. The elevator
hoistway
penetrates the
mezzanines
, and does not abut to other walls/rooms/spaces. You can walk around the 4 sides of the
hoistway
at ground and
mezzanines.
I had concluded I could apply 712.1.9 if I used a metal screened enclosure so that the opening is not concealed.
I concluded it becomes concealed if I use gyp walls, which becomes a shaft, which requires a 1-hr rating.
Do these conclusions sound correct?
Is there a case where I can have solid gyp walls, but not the 1-hr rating?
Does adding glass, open louvers, or metal screen to gyp walls help comply with 712.1.9, which would remove the 1-hr rating requirement?
Can this be considered an atrium, and would that remove the 1-hr rating requirement?
Does the fact it is only 1 story/room remove the fire-rated requirements altogether?
Sketch: brown represents 3
mezzanine
levels, green elevator, all within one room (black box)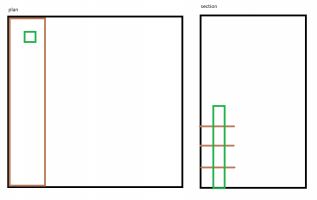 I'm lost in a loop:
712.1.9 Two-story openings, item 3: What is considered "concealed"?
712.1.11 Mezzanine: Vertical openings between a mezzanine complying with Section 505 and the floor below shall be permitted.
713.4 Fire-resistance rating: The number of stories connected by the shaft enclosure shall include any basements but not any mezzanines.
Thank you!