Joined

Nov 2, 2009
Messages

2,010
Location
Question:
If a municipal fire department is enforcing NFPA 1932 during plan check, doesn't it have to be either formally adopted in the state code or in the local municipal codes? I couldn't find it it the local adoptions, nor in the California Fire Code, nor in the California Referenced Standards Code.
Background:
I have a municipal fire department in California that, during title 19 Fire Dept Plan check, is requiring at least a 2' larger side yard than the minimum 5' required by either the building code, fire code or zoning code for a 3 story apartment building. Their logic is this:
CBC 1030 again requires Emergency Escape and Rescue Openings for sleeping rooms.
The word "Rescue" implies the fire department will be provided space for ladder access.
NFPA 1932 "Standard on Use Maintenance and Service Testing of In-Service Fire Department Ground Ladders", section 5.1.7 "Angle of Inclination" says the optimum combination of load carrying capacity and stability works out to a maximum 76 degrees angle of inclination, 75.5 degrees preferred.
For a 3rd story window sill that is 21.5' above the ground, the tangent of 76 (4.01) works out to about 5.36 feet, plus ladder frame thickness, plus I need space for my 8" property line block wall = nearly 7' side yard instead of 5' side yard.
On tight infill sites, this requirement (which seems more performance based instead of prescriptive) can be very problematic after CDs have already been completed.
Here's the NFPA 1932 excerpt that I found online: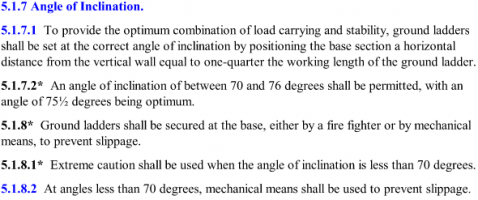 Last edited: