Hi all - I'm a residential designer (*
not a licensed architect
) working on a project in Southern California. The project is converting the ground floor of an existing two-story structure into an ADU (Accessory Dwelling Unit). Currently there are 4 garage bays on the ground floor with a rental unit above them which is accessed by an exterior staircase. The owner would like to convert one of the downstairs garage bays into an ADU. The ground floor is a slab foundation w/ standard wood frame construction built in 1939. We submitted plans and the city has responded by saying they want to see a 1-hour fire rated floor ceiling assembly and 1-hour wall assembly for the supporting walls. The problem is the existing construction of the upstairs floor is nominal lumber, 2x8 wood joists 16" O.C. and the owner is hoping not to have to tear into the upstairs unit to modify anything. Everything I can find as far as floor-ceiling assemblies seem to call for 2x10 or 2x12 joists. I found one detail from National Gypsum (PDF attached) where it looks like we could leave the upstairs floor alone however it's using 2x10 also. Below is a diagram for reference and the exact comments from the plan checker. Curious if anyone know of any details similar to the one attached by any other manufacturers that show an option for a 2x8 floor joist? Ultimately I am trying to save the homeowner on costs and hoping the fire rating can be achieved from modifying the new downstairs and not the unit upstairs.
Thank you
in advance for any help with this much appreciated.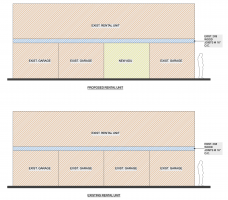 [ Comment 00047 | Sheet A1.6 ]
Dwelling units shall be separated from each other by FLOOR ASSEMBLIES having not less than a 1-hour fire-resistance rating tested in accordance with ASTM E119 or UL 263.
Fire-resistance-rated floor/ceiling assemblies shall extend to and be tight against exterior wall. CRC R302.3
Provide one-hour fire resistance rated floor assembly. Specify the approval listing agency for the floor assembly along with the approval number and a detailed description of the assembly per the approval.
[ Comment 00048 | Sheet A1.6 ]
Where floor assemblies are required to be fire-resistance rated by Section R302.3, the supporting construction of such assemblies shall have an equal or greater fire-resistance rating. Provide detail for the supporting wall or other supporting members to be at least 1-hour fire rated. CRC R302.3.1
[ Comment 00049 | Sheet A1.6 ]
Floor-ceiling assemblies separating dwelling units from each other shall have a sound transmission class of not less than 50 where tested in accordance with ASTM E90, and shall have an impact insulation class rating of not less than 50 where tested in accordance with ASTM E492.
Specify the approval listing agency for the Floor-ceiling assemblies separating dwelling units along with the approval number and a detailed description of the assembly per the approval that provides the required STC and IIC rating. SDMC Section 149.0341, CBC 1206.2, 1206.3